Latest News
Show Newer News...
50 Club JulyNew!
£50 Kevin O'Donnell

£10s Ryan Evans, Terri Pinnock and Steve Ord.

Posted by Brian Mulholland on 1st Jul 20
50 Club JuneNew!
The June 50 Club winners were:-

£100 Nigel Tyler

£10s George Dare, Peter Spriddell and Pepi Vazuez

Posted by Brian Mulholland on 30th Jun 20
50 Club MayNew!
The 50 Club winners for May are as follows:

£50 Charles Hardcastle.

£10s Meg Downing, Sam Hatfield and Susan Hinds.

Posted by Brian Mulholland on 2nd Jun 20
Golf Day PhotosNew!
Photos from Retty and Harry now in the photo gallery

Posted by Martin Tyler on 29th Mar 20
Mr Geoff SeaholmeNew!
With great sadness we have to report the passing of Mr Geoff Seaholme. Geoff was a 'nuggety, nudger and nurdler' batsman opening the innings for the second and third elevens scoring a lot of runs pushing and edging (deliberately) runs without being flashy or flamboyant. Geoff also worked with the Under 15's Colts.

The funeral is arranged for 1040hrs on Friday, 20th March 2020 at the North Chapel, West Herts Crematorium. Our thoughts are with Geoff's family and friends at this time.

Posted by John Chadwick on 17th Mar 20
Pavilion Planning Permission GrantedNew!
Chorleywood Cricket Pavilion Plans are Approved

We are delighted that at last night's TRDC Planning meeting we received unanimous approval for our plan for a new pavilion. We would like to thank everyone who filled the public gallery again as this helped to remind the councillors that this application has a lot of support.

The months of unstinting support from our Parish Council , local councillors, local community groups such as; Chorleywood Residents Association, Friends of Chorleywood Common, the church and the all those who wrote in to support the application, were crucial to gaining approval. On behalf of Chorleywood Cricket Club and Mission EmployAble, we would extend our thanks and warm appreciation for all the support we have received from these groups and wider local community.

We have much work to do with getting further approvals, finalising the building plans and raising the funds to pay for the building but gaining planning permission is a major step forward. We will keep you updated about our progress and we have many fundraising activities planned that we would be delighted if you were able to join - please see our websites for details.

Steve Dunning
Chair
Chorleywood CC

Katharine Weston
Chair
Mission EmployAble

Posted by Steve Dunning on 29th Feb 20
2020 Golf DayNew!
Click on the flyer below for details of the Golf Day at Moor Park Golf Club on March 16th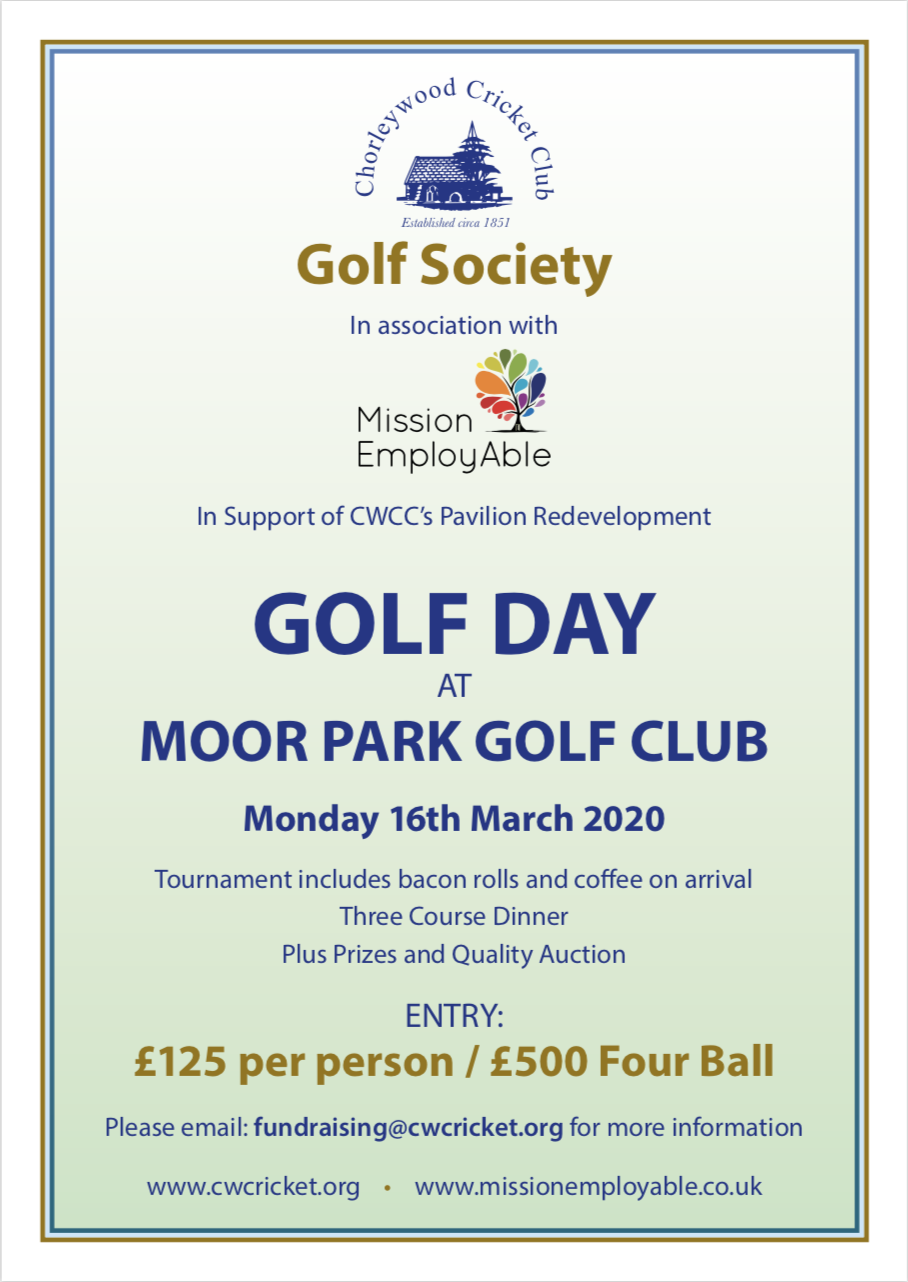 Posted by Martin Tyler on 26th Jan 20
50 Club DecemberNew!
The December winners were as follows:-

£100 Joy King

£10s Linda Dunning, Jeremy Hinds and Jonathan Rice.

Posted by Brian Mulholland on 12th Jan 20
Last Decade StatsNew!
If you click here you can see last decades batting stats, if you then click on bowling it will keep the season set to the decade.

If you want to look at other season ranges, look in the URL and change the years.

Posted by Martin Tyler on 1st Jan 20
WINTER NETSNew!
Please note: Colts will start at Clement Danes Saturday 18/1/20 - 12.00-15.00. Adults will start at Clement Danes Sunday 2/2/20 - 17.00-19.00

Posted by John Chadwick on 30th Dec 19
New Pavilion ProjectNew!
Click here or on CWCC-ME Pavilion Project at the top of the page to see more information about the joint project with Mission EmplayAble

For information on the planning application and to make comments please click here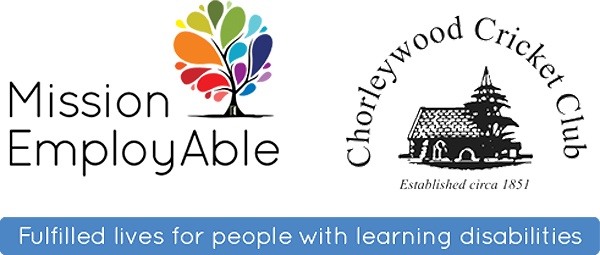 Posted by Martin Tyler on 27th Nov 19
50 Club JuneNew!
The June 50 Club winners were as follows:-

£100 Les Dacre

£10s Joy King (2) and Helen Smithson

Posted by Brian Mulholland on 10th Jun 19
CWCC Fantasy Cricket 2019New!
The league season is finally here and we have set up a Chorleywood Fantasy Cricket league for Saturday league games.

Create an account and build your team at the link below.

Entries cost £5 per team and this can be added on to your subs (which are now due).

Rules apply so please check the rules tab to find out full information.

Fantasy cricket is open to all - players, ex-players, partners, scorers, umpires, friends of CWCC etc.

There will be no backdating to the start of the season and your team will be active for the upcoming Saturday midday (deadline for each game week).

To get involved for the entire season please set up your team by Saturday 11th May.

Any questions please contact Vikash or Will Bryant.

Have fun!

https://chorleywood.fantasyclubcricket.co.uk/

Posted by Vikash Patel on 7th May 19
Pavilion Re-Development ProjectNew!
Please see our new tab which will have the latest updates of our pavilion re-development project in association with Mission EmployAble (ME). A link to ME's website will be added in due course.

If you have any questions in the interim, please do not hesitate to contact a member of the committee.

Posted by Vikash Patel on 9th Mar 19
50 Club Feb and MarchNew!
Here are the winners for February and March.

February 2019

£50 Susan Hinds

£10s Nigel Rothband, Andrew Spurr and Eileen Vielvoye

March 2019

£50 Clive Radley

£10s John Hobson, Ray Shine and Jeremy Hinds

Posted by Brian Mulholland on 9th Mar 19
PRE-SEASON CLEAN UPNew!
All members please note - the weekend 13-14 April. Please commit some time - more to follow.

Posted by John Chadwick on 18th Feb 19
Senior Winter Nets - 3rd Feb @ SCD 5-7pmNew!
A reminder that senior winter nets will start on Sunday 3rd February. This will run for 10 consecutive weeks every Sunday from 5-7pm @ St Clement Danes school.

Cost is £5 per session.

New members and senior colts (U14 and above) welcome and encouraged to attend.

Posted by Vikash Patel on 26th Jan 19
Scorers CoursesNew!
Helen Smithson is leading a 'club scorer' course at our clubhouse on Saturdays 2nd and 9th March from 10:30 till 3:00. This course covers the basics of paper and computer scoring and will enable you to be a proficient scorer for a colts or adult match.

Please contact Helen with any queries (07850793639) , or follow this link to book a place:

https://booking.ecb.co.uk/c/express/09de7dc9-75be-41f5-9ee7-b1717c204f41

Posted by John Chadwick on 24th Jan 19
50 Club JanuaryNew!
The January 2019 50 Club winners are as follows:-

£50 Ray Shine

£10s Meg Downing, David Bushnell and Kevin O'Donnell

Posted by Brian Mulholland on 2nd Jan 19
WINTER NETS 2019New!
Starting Sunday 3/2/19 - 17.00 - 19.00 - Clement Danes School. See you there !!

Posted by John Chadwick on 17th Dec 18
Show Older News...