Latest News
Show Newer News...
50 Club NovemberNew!
November 50 Club winners

£50 Les Dacre

£10s Neil Ret, Jonny Lyons and Steve Ord

Anyone wishing to join the 50 Club in time for the December £100 draw please contact Brian Mulholland on brian.mulholland@uwclub.net. Fifty per cent of the income goes to the Club's development fund which has raised over £20.00 to date. With the new pavilion to be paid for all new comers are very welcome. The other fifty per cent is paid out to winners of the monthly draws.

Posted by Brian Mulholland on 6th Nov 21
50 Club OctoberNew!
50 Club October winners

£50 Derek Hussey

£10s Amy Henson, Kevin O'Donnell and Neil Royden

Posted by Brian Mulholland on 8th Oct 21
50 Club SeptemberNew!
September 2021 50 Club winners

£50 David Brabham

£10s Patrick Ryan, Jonathan Rice and George Dare

Posted by Brian Mulholland on 7th Oct 21
50 Club AugustNew!
The winners of the August 50 Club draw were as follows:-

£50 Owen Edis

£10s Ginny Jenkins, Jean Harmon and Jenny Mulholland

Posted by Martin Tyler on 3rd Sep 21
Callum and Max WalkNew!
Callum Scott and Max Davies are walking from one home of cricket (Chorleywood) to the other home of cricket (Lords) on August 26th.

This is to raise money for the new pavilion and also part of their Cricket Leader course.

If you would like to donate then follow this link: https://www.justgiving.com/fundraising/carol-scott19

Posted by Martin Tyler on 3rd Aug 21
New WebsiteNew!
Some of you may know I built a new version of the this website a few years ago while I was between jobs. It was never quite 100% finished, but for most of what people need it is there.

You can try it out by clicking here or the link at the top of the page.

Let me know any ideas or feedback, or any issues.

Posted by Martin Tyler on 2nd Aug 21
50 Club JulyNew!
July 50 Club winners

£50 Freddie Dare

£10 Owen Edis, Andrew Stothart and Andy Howard.

Posted by Martin Tyler on 19th Jul 21
50 Club JuneNew!
June winners for the 50 Club..

£100 Andrew Spurr

£10s David Hinds, Anthony Shuster and Janet Sewell

Posted by Martin Tyler on 7th Jun 21
50 Club MayNew!
The winners for May are as follows:-

£50 Christine Appleby

£10s Mark Downing, Pepi Vazquez and Andrew Stothart

Posted by Brian Mulholland on 23rd May 21
Pavilion updateNew!
Update on fundraising for the new cricket pavilion

As the new cricket season shivers into being and youngsters look once more at the sad reality that is our current pavilion the Cricket Club can't but long for the day the new pavilion is ready. And with huge amounts of work now completed behind the scenes on developing training programmes, safeguarding policies and a host of other things that are needed for the young people Mission EmployAble will train and employ in the café there, everyone at Mission EmployAble is similarly desperate for the Pavilion to spring into being.

But first we need the money! Let us share with everyone in Chorleywood the great news of our fund-raising success to date. We are quite certain we are now in a position to start building very soon.

Fund raising has continued throughout 2020/21 despite all the COVID restrictions and has been very successful. We have raised over 80% of our target funds to date, including £100,000 pledged by Sport England. We have nearly a million pounds in the bank and pledges from reputable grant making charities for another £730 thousand including the Sport England commitment. This is enough to cover the building costs and, thanks to the offer of a generous interest free loan to be available if required, we are now ready to start the building of the pavilion with confidence. But we still have to raise funds to pay back that interest free loan, to pay for a pilot project for Mission Employable and to pay for the start up costs of the café. So during the remainder of this year we will continue to fund- raise.

To allow everyone involved to sleep well at night, a large UK based charity has pledged to underwrite the entire cost of the build, thus guaranteeing that nothing we can think of will stop money being available to get the pavilion completed.

The Parish Council has asked us for certain guarantees and assurances which we are talking to them about. As soon as these discussions are completed, we will be in a position to start the building and we are all excited about the prospect.

We would like to thank both the local Chorleywood community and the wider community for the support for this project to date. We have had many kind words of support given to us and people have responded incredibly generously to all our fund-raising events.

We now look forward to a new cricket pavilion and a new community café that will equip and train young learning-disabled adults for employment in the local area and provide a wonderful facility for cricket, refreshments and facilities on the Common.

More fund-raising events are planned for the remainder of 2021 which will be advertised locally soon, including an additional day on the 3rd May to see the Bluebells as local support resulted in the 2nd May being sold out!

Thank you again for your continuing and much appreciated support,

Steve Dunning Chair, Chorleywood Cricket Club

Katharine Weston Chair, Mission EmployAble

Posted by Steve Dunning on 24th Apr 21
50 Club AprilNew!
The April 50 Club winners were as follows:-

£50 Robin Webb

£10s Kevin O'Donnell, Jamie Mulholland and Terri Pinnock

Posted by Martin Tyler on 24th Apr 21
50 Club MarchNew!
The winners for March are as follows:-

£50 Chris Moore

£10s Andy Stothart, John Chadwick and David Brabham

Posted by Brian Mulholland on 7th Mar 21
New Pavilion UpdateNew!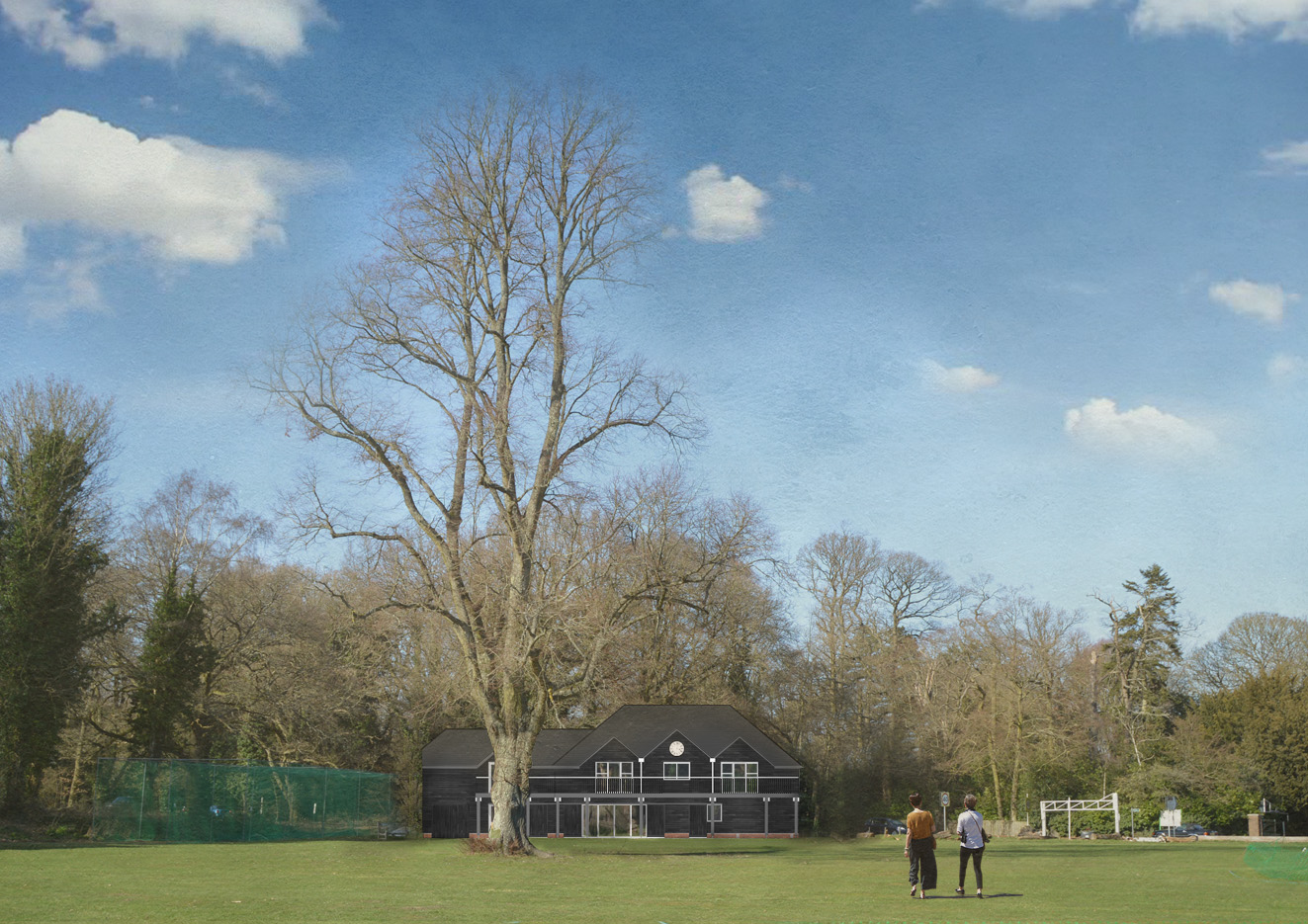 A computer generated image of the new pavilion and café

We know you will share our excitement that work is about to begin on the new Cricket Club pavilion and Mission EmployAble training café. The original 1960s building which is in bad repair will be demolished in March. The new pavilion will enable the Cricket Club to grow and to extend opportunities to play cricket to girls, women and people with disabilities.

It will also house a café run by Mission EmployAble, which, in conjunction with Bucks College, will train young adults with learning disabilities, via supported internships.

The café will be open every day to all comers, serving delicious home-made food for snacks, light lunches and afternoon teas, all with magnificent views of the Common. The café will also have a small gift shop.

Keep an eye out on the website's new buildings page which will show you how we are doing. The building site will be protected by the contractor Boom Construction Ltd from day one by secure and newt fencing as recommended by the ecologist, and parking and welfare facilities for the contractor will be provided on-site.

We especially wanted to thank all of you who have supported our fund-raising efforts so far. The Cricket Club and Mission EmployAble's joint scheme was launched to raise £2m, £1.7m of which has been raised already.

We will have plenty of new events planned during 2021 and have some spaces available for the Charity Golf Day on the 16th April. Click here for ticket details.

The new building is due for completion in late 2021/early 2022.

Posted by Martin Tyler on 20th Feb 21
50 Club FebruaryNew!
February winners...

£50 Anthony Shuster

£10s Tom Smithson, Natalie Hinds and Jeremy Hinds.

Posted by Brian Mulholland on 14th Feb 21
Gulam SheraliNew!
It's with huge sadness that we have just found out that Gulam Sherali passed away last night. Gulam joined the club in 2010 and went on to be a regular in the 3rd XI, while also making significant contributions to both the 2nd XI and 4th XI when needed. He was an extremely talented cricketer who could be relied on to guts out runs on any kind of wicket, who had incredible hands in the field and who was always thinking about the game and offering advice to the skipper. It was clear he knew, and loved the game deeply.

Gulam will be remembered for many feats on the cricket field - promotion winning knock for the 2nd XI, just missing out on his 100 for the 4th XI on a baking hot day in Ramadan (and then keeping for 49 overs!), diving one handed catches under the nose of the batter for the 3rd XI, batting on, covered in blood, after taking one in the face on a dodgy track in the 4th XI, and countless other fine innings with the bat.

Most of all though, Gulam will be remembered as someone we all enjoyed playing cricket with. He was a true gent with a great sense of humour who was always open with advice and help for others ..... and he had the baddest batting gloves you'll ever see! He will be hugely missed.

Condolences to his family from everyone at CWCC and rest in peace Gulam.

Posted by Nigel Tyler on 29th Jan 21
50 Club JanuaryNew!
I have just done the 50 Club January draw and the winners are as follows :-

£50 Barbara Bailey

£10s Meg Downing, Ken Buchanan and Lesley Neal

Posted by Brian Mulholland on 12th Jan 21
50 Club DecemberNew!
December winners

£100 Les Dacre

£10s Jonathan Rice, Charles Hardcastle and Meg Downing.

Posted by Brian Mulholland on 19th Dec 20
Mission Employable Fund RaisingNew!
ME have a couple of fund raising events to be aware of:

Christmas Wreath competition until the 27th Dec Click here for info

Mission WoofAble until the 20th Nov Click here for info

And lastly a message about the ultra running...

When the Ultra was cancelled, Brent covered the required 100 miles in 24 hours by running around Chorleywood and the surrounding villages, spurred on by socially-distanced shout-outs from individuals along the way. Along with his running crew who pushed him tirelessly throughout the day and night and kept us updated with pictures, videos and lap times. (Great for his family who were glued to the WhatsApp group over in New Zealand.) Without a doubt the best part of the run was being with his son Luke, 15, who ran alongside him for the last 11 miles.

On his return to Chorleywood Common in 23 hours and 41 minutes, Brent said that he completed the marathon in order to keep his promise to the charity. Chorleywood Common where locals were out with their families enjoying the sunshine just erupted into to applause when the two of them came racing towards the Cricket Club out of the woods. Brent said "It was an overwhelming finish. I really wasn't expecting anybody to be there and when I came over the hill I was very surprised. I want to thank everyone for their fantastic support of a wonderful cause. I am especially proud of Luke who gave me such motivation at the end."

Brent has raised a staggering £10,810 for us here at Mission EmployAble. The last £2080 came in throughout his run on the 7/8th from many local families who crossed paths with him over those 24 hours. We have not heard the last of Brent and his determination to make a difference - watch this space.

"Amazing. What a wonderful achievement and huge thanks for such a massive fundraising effort and support" Katharine Weston: Founder of Mission EmployAble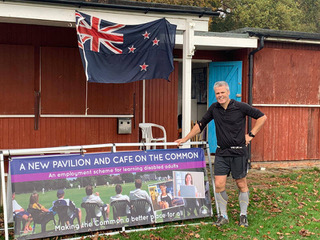 Posted by Martin Tyler on 12th Nov 20
50 Club NovemberNew!
The winners in November 50 Club draw were as follows:-

£50 John Chadwick

£10s Clive Radley, John Chadwick and David Jenkins

Posted by Brian Mulholland on 12th Nov 20
50 Club OctoberNew!
£50 Jonny Lyons

£10s Andrew Stothart, Jane Spurr and Chris Moore

Posted by Brian Mulholland on 5th Oct 20
Show Older News...