Latest News
Show Newer News...
50 Club JuneNew!
The June 50 Club winners were as follows:-

£100 Les Dacre

£10s Joy King (2) and Helen Smithson

Posted by Brian Mulholland on 10th Jun 19
CWCC Fantasy Cricket 2019New!
The league season is finally here and we have set up a Chorleywood Fantasy Cricket league for Saturday league games.

Create an account and build your team at the link below.

Entries cost £5 per team and this can be added on to your subs (which are now due).

Rules apply so please check the rules tab to find out full information.

Fantasy cricket is open to all - players, ex-players, partners, scorers, umpires, friends of CWCC etc.

There will be no backdating to the start of the season and your team will be active for the upcoming Saturday midday (deadline for each game week).

To get involved for the entire season please set up your team by Saturday 11th May.

Any questions please contact Vikash or Will Bryant.

Have fun!

https://chorleywood.fantasyclubcricket.co.uk/

Posted by Vikash Patel on 7th May 19
Pavilion Re-Development ProjectNew!
Please see our new tab which will have the latest updates of our pavilion re-development project in association with Mission EmployAble (ME). A link to ME's website will be added in due course.

If you have any questions in the interim, please do not hesitate to contact a member of the committee.

Posted by Vikash Patel on 9th Mar 19
50 Club Feb and MarchNew!
Here are the winners for February and March.

February 2019

£50 Susan Hinds

£10s Nigel Rothband, Andrew Spurr and Eileen Vielvoye

March 2019

£50 Clive Radley

£10s John Hobson, Ray Shine and Jeremy Hinds

Posted by Brian Mulholland on 9th Mar 19
PRE-SEASON CLEAN UPNew!
All members please note - the weekend 13-14 April. Please commit some time - more to follow.

Posted by John Chadwick on 18th Feb 19
Senior Winter Nets - 3rd Feb @ SCD 5-7pmNew!
A reminder that senior winter nets will start on Sunday 3rd February. This will run for 10 consecutive weeks every Sunday from 5-7pm @ St Clement Danes school.

Cost is £5 per session.

New members and senior colts (U14 and above) welcome and encouraged to attend.

Posted by Vikash Patel on 26th Jan 19
Scorers CoursesNew!
Helen Smithson is leading a 'club scorer' course at our clubhouse on Saturdays 2nd and 9th March from 10:30 till 3:00. This course covers the basics of paper and computer scoring and will enable you to be a proficient scorer for a colts or adult match.

Please contact Helen with any queries (07850793639) , or follow this link to book a place:

https://booking.ecb.co.uk/c/express/09de7dc9-75be-41f5-9ee7-b1717c204f41

Posted by John Chadwick on 24th Jan 19
50 Club JanuaryNew!
The January 2019 50 Club winners are as follows:-

£50 Ray Shine

£10s Meg Downing, David Bushnell and Kevin O'Donnell

Posted by Brian Mulholland on 2nd Jan 19
WINTER NETS 2019New!
Starting Sunday 3/2/19 - 17.00 - 19.00 - Clement Danes School. See you there !!

Posted by John Chadwick on 17th Dec 18
50 Club DecemberNew!
The winners in the December 2018 draw were

£100 Eileen Vielvoye

£10s Andrew Spurr, Robin Webb and Anthony Shuster

Posted by Brian Mulholland on 3rd Dec 18
50 Club NovemberNew!
£50 Eileen Vielvoye

£10s Mike Norris, Ken Moore and Jamie Mulholland

Posted by Martin Tyler on 29th Nov 18
Indoor CricketNew!
This Wednesday evening sees the Cougars last game of the indoor season with a potentially league deciding game against Wheathampstead. Victory will assure first place and promotion into division one next year. Kick off is 9pm at the Choice Cricket Centre in Redbourn.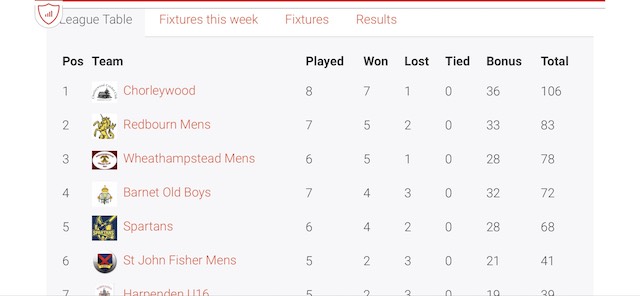 Posted by Nigel Tyler on 18th Nov 18
Robsons UmbrellasNew!
Our Club Sponsor Robsons have now opened their new office in Chorleywood, we wish them every success for the future. They are also generously donating the proceeds of all sales from their golf and standard umbrellas to the Club.

This is a fantastic offer and we thank them, please pop in to see Neil in the new office and purchase your own CWCC branded umbrella for £10.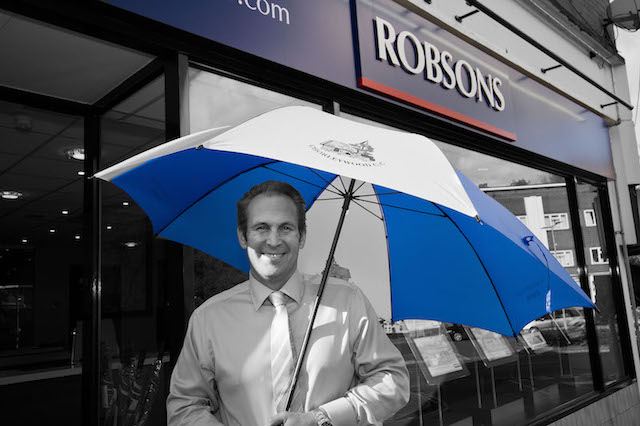 Posted by Martin Tyler on 28th Oct 18
50 Club OctoberNew!
The October winners were as follows:-

£50 - Lyndon Ryan

£10s – Amy Hensman, Nick Rice and Paul Downing

Posted by Brian Mulholland on 15th Oct 18
50 Club SeptemberNew!
The winners of this month's draw were as follows:

£50 Les Dacre

£10s John Hobson, Derek Hussey and Nigel Rothband

Posted by Brian Mulholland on 27th Sep 18
Autumn Bar OpeningsNew!
First one 30/9

Posted by John Chadwick on 10th Sep 18
CWCC - U15 - County ChampionsNew!
U15 Hertfordshire Summer League - CWCC are Champions

On Wednesday 29th August, the U15s, comprising three U15s, five U14s, one U13 and two U12s, travelled to the main season county champions Hitchin for an U15 Summer League semi final.

Chorleywood won the toss and elected to bat first on a slow, green wicket. Runs were hard to come by with Hitchin's bowlers bowling very tightly, but good contributions from Charlie Caslake 25 retired, Charles Davies 18, Connor Scott 19 and Sam Tyler 15 ensured Chorleywood reached 98 for 6 off 20 overs.

In the first over, Andrew Wijegoonawardena bowled the Hitchin county U15 opener but a decent stand of 30 put Hitchin in charge. Two brilliant catches then turned the match Chorleywood's way; one at deep mid off by Naathan Shetty, the other a leg side catch behind the stumps by Ollie May. The Hitchin number 7 attacked the bowling for 25 retired but the rest of the Hitchin batters fell cheaply to Max Davies, Callum Scott, Connor Scott and Luke Sutcliffe. At 86-9 with 13 needed, Gene Tipping took the third great catch of the night off Charlie Caslake for a fantastic win.

The same Xl took to the field at Welwyn Garden CC for the U15 Summer League final against Braughing U15 on Sunday. Once again, Luke decided to bat first on what looked a good wicket. An excellent batting performance followed; Charlie Caslake and Andrew Wijegoonawardena put on 50 for the first wicket, both retiring. Sam Tyler then continued the good work and also retired before Connor Scott and Luke Sutcliffe accelerated the scoring rate; Connor scoring 26* and Luke a quick fire 27*. Chorleywood finished on 169-4, a formidable total which Braughing never looked like chasing down, losing wickets at regular intervals. The bowling and fielding performances were as good as the batting; two run outs by Charlie Caslake and Charles Davies (a brilliant turn and throw) and four smart catches by Luke, Charlie, Naathan and Ollie (another very good leg side take). Wickets were shared around; Max 2, Charles 2 and 1 apiece for Callum, Naathan, Connor and Luke, and Braughing finished 89 all out in the 19th over.
See a couple more photos in the Photos section
Posted by Patrick Ryan on 5th Sep 18
50 Club July and AugustNew!
July

£50 Jeff O'Dwyer

£10s Les Dacre, Neil Royden, Mike Norris

August

£50 Kevin O'Donnell

£10s Les Dacre, Brian Mulholland, John Chadwick.

Posted by Brian Mulholland on 11th Aug 18
Mr Rex Vine - UpdateNew!
The family have decided on a quiet funeral for family members only. However there will be an afternoon cricket-style tea to celebrate Rex's life at the Club at 15.00 on 10th August. Numbers may be limited so please email john.chadwick@minervauk.com if you would like to attend.

Posted by John Chadwick on 24th Jul 18
Mr Rex VineNew!
With great sadness we have to report the passing of Mr Rex Vine.

Rex passed away early Saturday morning in Stoke Mandeville hospital after a short illness His niece Nicola was by his bedside.

Rex was one of the true greats of Chorleywood Cricket.

He was held in awe by very many and had the respect of everyone.

He also was a neat footballer.

He was groundsman at the Club and was a local architect who drew up the plans for initial pavilion extensions.

He had been to watch the cricket match against Harpenden on 30th June and had been delighted to meet old friends and relate some of his stories to Chorleywood players of the current generation.

Our condolences go to all Rex's family and friends.

Please watch the website for funeral arrangements.

Posted by John Chadwick on 16th Jul 18
Show Older News...